Dr Andrea Pennington
Dr. Andrea Pennington is an integrative physician, acupuncturist, meditation teacher and #1 international bestselling author of several books on resilience, mindfulness and self-love. Dr. Andrea's extensive study of medical nutrition, positive psychology and longevity biohacking led her to create a holistic media platform, In8Vitality, blending ancient wisdom and modern science for enhanced vitality and life mastery.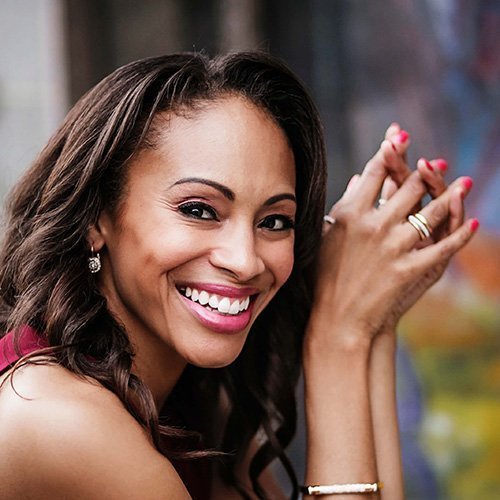 CATEGORY
Communication, Marketing and Negotiation, Mindset & Performance, Psychology, Wellbeing & Spirituality
KEYNOTE FEE BAND
£5,000 – £10,000
WORKSHOPS & TRAININGS
Andrea Pennington's Social Media Links
"Doctor of Self Love"
Dr. Andrea Pennington is a highly acclaimed TEDx speaker, author and sought-after media personality with more than 20-years' experience in broadcast and digital media.
Her TV appearances include the Oprah Winfrey Show, Dr. Oz Show, iTV This Morning, CNN, the Today Show, LUXE-TV, Thrive Global and Huffington Post. She has been a news anchor for Discovery Health Channel. 
As Co-founder of the RealSelfLove Movement, Andrea speaks globally to reduce the stigma of mental illness and to support people on their journey to authentic living. Andrea is also the creator of the 5-Step Attunement Meditation Process, designed to lower stress, boost resilience and enhance sensuality.
Through her daily talk show, Liberate Your Authentic Self, Andrea brings insight and inspiration for purposeful living, conscious relationships & soulful success. 
Andrea also leverages her broadcast and digital media expertise through her publishing and media production, Make Your Mark Global Media. 
The Top 10 Traits of Highly Resilient People: How to Build A Stress-Resistant Personality
How to Heal from Imposter Syndrome and Liberate Your Authentic Self
Mindfulness: The Gateway to Increased Creativity, Productivity and Fulfilment
How to Create Your Authentic Personal Brand with Integrity and Impact

 How to prevent or recover from burnout 

How to leverage the media to create a global presence for your personal brand
I had the pleasure to work with Dr. Andrea during the TEDxIUM event in June 2014. I asked Dr. Andrea to be a speaker at our event. Dr. Andrea spoke about "Becoming Who You Really Are". She had an amazing presence on stage, she delivered her speech in a flawless manner and her messages were clear and actionable. Members of the audience remembered Dr. Andrea as one of our best speakers during the TEDxIUM event. Thank you Dr. Andrea for helping make our event such a big success and teaching something new to our TEDx audience. I look forward to working with Dr. Andrea on future projects.
Nazanine Martin, Head of Operations UIB
Andrea Pennington gives voice to the direction most think about but rarely ever take. Her gifts of healing through the integration of Eastern and Western medicine, music, and empowerment are effective tools that reinforce the path for people to live beyond even their own expectations. Through generously sharing her knowledge and availing herself to others in need she reaches the capacity of the human spirit and creates a well from which others can be nourished.
Business Innovation Group
Dr. Pennington is an exceptional expert in her field, and she is a tremendous pleasure to work with. She is always cool, calm and collected, and she is a very genuine person who puts you immediately at ease when you meet her. I always looked forward to working with Dr. Pennington!
Paul Markey, Discovery Networks
 Dr. Andrea is an amazing consultant when it comes to MediaCommunication. With her help, her insight and brilliant and positive attitude she took me through tough communication challenges.
Deputy Mayor of The City Of Reykjavik
Audio Devices
Røde usb mic and Rode lavalier mic
Lighting
Neewer studio lights
Connection Type
Fiber optic internet connection
Platform Experience
ECamm, Zoom, Streamyard, Microsoft Teams etc
Keynote Slide Software
Keynote
Experience With Digital Delivery
Highly skilled at delivering virtual keynotes and facilitating interactive discussions/Q&A with polls, quizzes and laser coaching