Winston Ben Clements
Winston Clements is mission is to inspire 1 BILLION people to unleash their full human potential. Your results are directly proportional to how you define yourself. Is your self-perception enabling or disabling?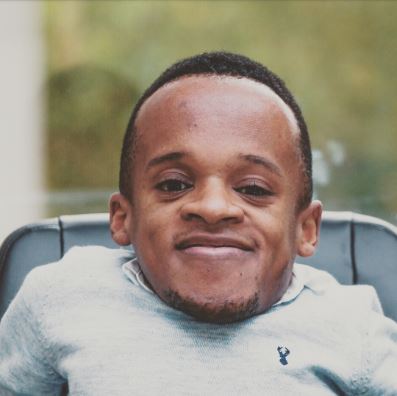 CATEGORY
Adversity, Diversity & Inclusion, Mindset & Performance, Psychology, Wellbeing & Spirituality
KEYNOTE FEE BAND
£1,000-£5,000
WORKSHOPS & TRAINING
Winston Clements Social Media Links
"Living Without Limitations"
Many organisations under perform because their people are getting in their own way! This is often exemplified when finger pointing and making excuses start to become the norm within your teams.
Is it time to shift the mindsets of your people, in order to create a culture of resilience, inclusion and high performance within your organisation?
Winston was predicted to live a life of isolation and pain due to a rare bone disorder that stunted his growth, and caused his bones to be extremely fragile (fracturing more than 150 times by age 12). Despite his small stature (3 feet tall) and use of a wheelchair, Winston has taken a stand for a quality of life that knows NO EXCUSES and NO LIMITS.
After graduating with a degree in Computer Science, Winston built a successful corporate career in the Technology industry & is now the NED of Midland Mencap, who campaign for accessible and inclusive services. He is also an award-winning speaker, whose powerful message continues to inspire audiences worldwide to break through their own self-imposed barriers. In 2018, Winston delivered a TED talk titled "Your Limitations Are An Illusion" that has had a massive impact and inspired more than 50,000 people online!
Winston Clements has become extremely popular for his keynote and guest speaking appearances due to his ability to deliver inspirational and practical content, in a humorous and relaxed style. He has worked with various types of audiences including: CEO groups, Management Consultants, Team Events, Conferences and Entrepreneurs.
Resilience & Confidence For The Next Generation
Be Resilient Or Resign
Your Limitations Are An Illusion
Creating An Inclusive Culture In Your Organisation
Challenging Conventional Thinking On Diversity
Use The Power Of Extreme Ownership To Raise Your Game As A Leader
Overcome Any Adversity
Stress, Mental Health & Wellbeing
What we love the most is that after hearing Winston speak, people go away and make drastic changes as a result, which is the yardstick that any speaker should be measured against – that ability to bring change and transformation to individuals!
Demir & Carey Bentley – Co-Founders, Lifehack Bootcamp, USA
Winston is a force of nature. His cheeky personality transcends any other initial impression you may be tempted to form. I have seen him speak a couple of times and have been really impressed by the way he focuses on delivering value to his audience. He moves around more than you might expect and addresses, quickly, those obvious questions that audiences have when they first meet him. He's a delightful character and has strong messages to share regarding how to break free from your limitations, and creating a culture of grit and resilience in organisations.
Mark Lee, Accountancy Futurist
Winston delivered a fantastic TED Talk that has received massive attention on YouTube! His specialist topic 'resilience' is a great fit for any corporate team event or occasion.
Bianca Miller – Cole, BBC Apprentice Star
Winston is an amazing speaker with a wonderful story. His message is applicable for everybody and delivered with passion, humour and energy. I love watching Winston and offstage he is just as warm and enthusiastic as on stage. I would highly recommend him for any conference
Frank Furness, Sales & Marketing Speaker
We invited Winston to speak at two of our recent events: our Talent Leaders Connect audience of senior, in-house resourcing professionals and our Recruitment Leaders Connect network of recruitment agency owners and directors. It's fair to say Winston knocked it out the park both times; inspirational, insightful and thought provoking content delivered with credibility and humour. I would have no hesitation in recommending Winston to speak in front of any audience.
Ken Brotherston – Managing Director, Talint Partners
It was an absolute pleasure having Winston speak to over 500 entrepreneurs at our BSS event in London. Winston is the epitome of resilience, super engaging and his audience feedback was fantastic!
Ed J C Smith, Breakthrough Success Summit
Absolute pleasure to have you Winston and thank you for sharing those excellent tips. Oracle